Solutions Group NW was founded to consciously, systemically and sustainably bring low-barrier addiction treatment to underserved populations. We do these everyday in our Substance Use Disorder and Problem Gambling practices. Every client will have access to treatment programs at our agency – we will find a way to fund your treatment.
Our culturally-specific programs deliver services to the LatinX community. Diversity is an underlying principal of the organization. It is reflected in our staff and our clientele. We provide treatment services with competent, compassionate and experienced professionals.
Our Practice Areas
Substance Use Disorder Problem Gambling Drug Testing
We are a State of Oregon approved DUII provider. We accept Oregon Health Plan (CareOregon, Trillium and OpenCard) and most private insurance plans. We have access to grant funding sources to assist qualifying clients in need of financial assistance.
¡Tenemos un programa de DUII en español los sábados! We have a English language DUII program on Saturdays!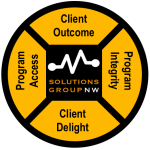 At Solutions Group NW, we commit to provide you with:
Affordable, client-centered services
Flexible scheduling that works for you and suits your busy life
Treatment approach that will treat you with the dignity and respect you deserve
Clarity, fairness and consistency in our program structure
Scholarships/reduced-fee plans
Convenient location easily accessible by Max, TriMet and car
We offer services (by appointment) every day of the week, including weekends and evenings.
Coronavirus related information here.